Have a Merry Recycled Holiday!
Used to be, way back when, that resalers would give up their potential holiday business to the malls and the Big Boxes. We can't compete with them, resalers would cry. People won't shop with us for the holidays, no matter what! their peers would proclaim.

Well, that was then and this is now.
The media has shown the general public that secondhand shopping is a viable way to stretch dollars and still get great stuff. Which means there are a lot of people out there more willing than ever to give your shop a whirl: is it for them? And since the holidays involve gift-shopping, special-occasion dressing, and entertaining at home...
now's a terrific time to put on your party smile and welcome all those new friends into your second home: your shop!

Kate says:
"While the media reports fears of Christmas being a bust, pushing your business as ďIím Dreaming of a Green ChristmasĒ is a natural! Itís eco-centric, budget-friendly and it has a hummable theme song. And think of the ad heads, the press release angles, the blog entries: Save Your Green..." Read the full entry
Want to increase holiday business?
Want to help your suppliers AND customers have a Merry Recycled Holiday? Read all about:
Preparing for the Holidays†
Ad heads/ email subject lines
Themes and decor ideas
Dress the window ONCE
Selling & Gift Certificates
BEST Promo: Help a Charity
Get Holidays in Resale now!

Copyright 2011 Kate Holmes, TGtbT.com.
All rights reserved and enforced.


Resources
On Auntie Kate The Blog:
All the Products for the Professional Resaler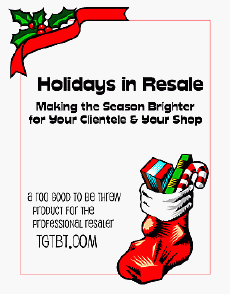 Okay, Kate, I want to get started learning how to be a success!