Ordering info for Products for the Professional Resaler
First, what do I order?
What's a PDQ download?
Does the Manual have all the other Products in it?
How to order
Shipping costs and times Return policy Privacy policy
Not sure what to choose for your shop?
FIRST: A must: the Manual. Absolute must whether you're just beginning to think about it or you've been in business for years. (I'm already in business. Will the manual be worth it?)

Then, to broaden your knowledge: General information useful to all shops: 499 Names to your order (this is good not only for the name of your shop, but tag lines, department names, even advertising headlines) and Shop Sizzle and Using All your Space.

In the first few years of your business? Choose The Money-Wise Guide to Accepting & Pricing, The Big Book of Window Displays, and Secrets of Successful Resalers.
Shopkeepers ready to fine-tune profitability find 10 Simple Ways to Make $10,000 more a year and Resale's BEST Promotions: Celebrate, Generate, Motivate! most helpful.

Specialty resalers: KidBiz: It's NOT Child's Play and The Resaler's Guide to Furniture & Home Goods have additional, specific to that merchandise information.
What's a PDQ download?
Get your Products Pretty Darn Quick (PDQ), no shipping costs, right in your computer to read or print out! Our downloads are in PDF format. If you don't have Adobe Acrobat Reader, get it here free.
PDF files reside in your computer, where you can read it on screen and/or print it out for hands-on reading in your favorite armchair.
PDQs are personally e-mailed to you as a file attachment. This is NOT automated, so you will NOT get it instantaneously. You will get it PDQ; Pretty Darn Quick, directly from Kate's fingertips to yours, usually within less than 12 hours.
Please note: Your PDQs are sent only to the e-mail you use on PayPal, so monitor that e-mail for your order. Depending on how you have your security set up, these emails with attached files may end up in your spam filter. PDQs cannot be resent to a second address.
Once you have your PDQs, read them on screen or print them out. Save them to your files immediately; I cannot resend Products that you have lost.
Does the Manual have all the other Products in it?
No, they are all separate sources of information. Think of the Manual as Resale 101, the basics. For "advanced study" in specific areas, make your choices from the many Products designed to suit resalers of every type, size, and strength. The only Product that is a repeat of other Products is our Camera-Ready Consignment Agreement Layout, which is designed for the shop that feels the Manual is beyond their business investment budget. Once they see how helpful this Product is, they invariably buy the Manual!
"I am already in business, and doing well. What would the manual offer me?"

Auntie Kate replies: Many shopkeepers benefit from seeing alternate ways of doing things. While the systems you already have in place may work well enough, it is always an eye-opener to examine other viewpoints. There may be whole areas that you haven't considered, or you may be doing things which, while they worked at one point, don't maximize today's investment in time, effort, and money. We can always be more successful, right?
"I don't want to sell clothes, but hard goods/ furniture/ sporting goods/ whatever. Should I buy the manual?"

Auntie Kate replies: 99% of the info in the Manual will apply to ANY merchandise. There will be sections where you will have to mentally substitute (for example, our suggested floor plan shows where to put tops, coats, etc., and you might have to think about dining room sets or ski poles or crystal vases) to suit the business you have in mind, but most everything else is the same, just as your potential customers are.
"I'm confused! There are so many Products for the Professional Resaler. Is all that in the manual or are your Products simply repeats of the same info?"

Auntie Kate replies: The manual is the Big Picture. All our other Products go into more detail and are designed to take you and/or your staff to the next level of knowledge.
How to order
Use the PayPal buttons throughout our site for the fastest and safest way to purchase our Products.
You DO NOT need a "PayPal account" to order.
Why PayPal? I wanted a payment service that both you and I could feel comfortable with. Signing up for a PayPal account is totally optional. Signing up really only means that PayPal saves your information for future purchases. If you don't like that idea, just take the "use credit card" choice and PayPal simply becomes TGtbT's credit card service provider.
It is not necessary to have a PayPal account to purchase our products even though we use PayPal to process our payments. They accept all types of payment. Please note: If you use an e-check with Pay Pal, your order will be delayed by Pay Pal for days until your check clears. That's their policy, not mine.
How Does the Shopping Cart Work?
While you're shopping, you will be using a safe and secure PayPal page as your Shopping Cart. The Shopping Cart allows you to purchase multiple items at the same time without having to enter your information over and over. When you click on the "Add to Cart" button next to the item, you will see your selections on a secure page hosted by PayPal. You can delete any item at any time, so go ahead and create a "wish list" by clicking on things you think you want. When you're ready to check out, review what you've ordered in your Shopping Cart, then click "check out."

It's important to verify, if you are a PayPal member, that the email and physical address you have on file with them is current and correct. It's easy to forget to update these. Your order can only be sent to your address of record, so check that it's right!
If you're still a bit nervous shopping online, check out the URL of the Shopping Cart page. It's a secure (beginning with https) PayPal URL window.
Don't have/ don't want a PayPal account? You can still order online using just your credit card. PayPal simply becomes TGtbT's credit card service provider.
Other options: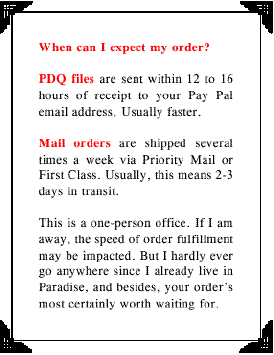 Yes, you can mail us your order with a check, although this is the slowest ordering option. Print out the order form, fill it in, and include it with your check. Be aware that your check must clear the bank before your order can be accepted.
Shipping costs and times
There is no shipping charge for any PDQ Product. Shipping costs are automatically applied for hard-copy Products only. US shipping for hard-copy Products:
The Picker Who Perished (sent Media Mail) $3.95
TGtbT The Manual (sent Priority Mail) $7.95
Canada: Orders to Canada, $19.95; all other international destinations, $27.95. All orders sent by air. Delivery times determined by your country's Customs departments.
Return policy
The Manual may be returned within 3 days of receipt in original condition and if purchased through our site. Return by Priority or First-Class Mail, as they were sent to you. Shipping charges cannot be refunded. Purchases of our Products from other outlets are not returnable to TGtbT.com.
PDQ files: Because these files are non-tangible irrevocable goods we do not issue refund after the product is shipped, following Internet protocol. PDQs cannot be resent to a second address.
Privacy policy
Your privacy is important to us. On some pages, you can order products, make requests, and register to receive materials.

We use the information you provide when placing an order only to complete that order. We do not share this information with outside parties. We use return email addresses to answer email we receive. Such addresses are not shared with outside parties. If you love our information and want to keep abreast of new developments, you can register to receive our free e-newsletter, USED ain't seen nothin' yet, which has, in every issue, an opportunity to opt-out.

To prevent unauthorized access, we safeguard information we collect online. We never collect or maintain information at our website from those we actually know are under 13, and no part of our website is structured to attract anyone under 13. Our web site contains no lead and is composed of 100% post-consumer gently-used, recycled electrons. Should you have questions or concerns about these policies, please call us at 941-922-5902 or send us an email from this site.