Our THRIVE article presented here an excerpt from "My Living Social Experience" by Kerri, who owns Childish Things in Boulder Colorado. She wanted to share her experience with using Living Social in her women's and children's consignment shop.

Background:

My store is located in a college town of approximately 100,000 people, not including the college kids. I have a 4000 sq. ft. store which sells mainly children's items. We sell children's clothing, books, toys, furniture, and baby gear. We also sell new items I've purchased—cloth diapers, Melissa and Doug toys, shoes, socks, tutu's and bikes. Our smallest seller, but commanding the most money per item, is our maternity and women's clothing. I've been in business for 18 years....

The Deal:

I was approached by Living Social to run a deal last November. After thinking it over and coming up with a worst case scenario, I decided that I'd try it and see what happened. I also spoke with the owner of one of the women's stores in town who had already done a Living Social deal to find out her experience.

I decided to run a deal of $20 of merchandise for $10. I limited it to 500 people (the minimum allowed) and they had one week to purchase the deal...

If you're not familiar with Living Social, here's how it works. A person buys a voucher for $10 and you get reimbursed $5 of that from Living Social. You have to give that person $20 worth of "stuff" when they come in to shop. So you think you are losing out on $15, but really you are losing only your COGS (cost of goods) for those items. I pay consignors 40%, so on a $20 sale, it costs me $8. This is why I limited it to consigned goods, and also how I figured out my worst case....

The full article can be downloaded without cost as a PDQ (What's a PDQ?) from TGtbT.com, thanks to the generosity of Kerri. Visit Childish Things from our Clickable Directory at HowToConsign.com.

Copyright 2012 Kate Holmes, TGtbT.com. All rights reserved and enforced.


Resources
On TGtbT.com: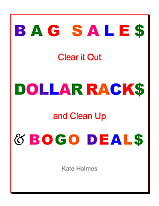 Bag Sale$, Dollar Rack$ & BOGO Deal$
* What to include and What NOT to
* Deciding which type of sale
* Where, When, For how long
* How much per bag?
* Why Dollar Racks don't have to be $1
* Making it a public relations hit
* The "sale rack on the sidewalk"
Available here.
Growing Business Products


All Products for the Professional Resaler