The Back Room: How to Make your consignment, resale, thrift shop better
Every resale, consignment, thrift shop has one. Every shopkeeper, if she allows you to see it, apologizes for its messiness.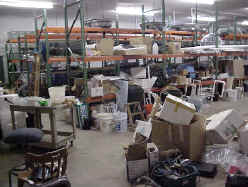 Me too. I had to share some ideas and tips with you, but couldn't figure out where to put them. So here they are, in my e-back room. Just watch your step, things may topple over!
Thinking outside the Box: Why let your shop get lost in a sea of sameness. Try some of these not-so-usual ideas.
Let's SHOP Everyone's fav activity: what to buy everywhere from online to garage sales.
Extreme Makeover, Resale Style Kate tackles some really boring shelving and a nice but under-merchandised cupboard.
Resalers' Dictionary: A compendium of terminology for the resale industry: consignment clarification, like-new lingo, secondhand sense, a glossary of great used stuff, a dictionary of junk jargon.
Kidswear Page: Some pertinent info and sources. And Resources for designer womenswear shops and Especially for furniture & home decor shops. And, of course, some specialized ideas for non-profit, NFP thrift resalers
Spanish for Resalers
The mini-billboard you carry in your pocket: All about business cards.
Send your donations, expired consignments, and unsold merchandise to where they will do some good.
What color should I paint my walls?
Is your shop ready for Back to School season?
Looking for some reference material to direct a reporter to? Mention HowToConsign.com with its wealth of consumer-oriented shopping information. The more the reporter has to say, the longer the article about your shop will be!
Don't miss the Archives of past articles from TGtbT.com.