Resale, Consignment & Thrift Shop Links
curated by Too Good to be Threw The Premier Site for Professional Resalers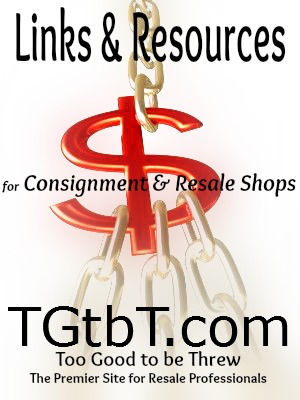 Sites about resale, retailing, small business
For Canadian resources look for:
About resale, retailing, small business
Places to locate shops
How To Consign is about all forms of resale, and its Directory and Zoomable Map sends shoppers and suppliers directly to full information about each shop.
The National Association of Resale and Thrift Shops lists member shops.
For phone-book-type listings, some with maps and reviews and the ability to add or enhance your shop listing, try YellowPages.com

For Canadian listings, it's Canada411
Have you seen all TGtbT.com has to offer you?
Our Resalers' Resources Page has all our internet sites listed.
Running your shop:
More Business has useful small-business info
The Idea Cafe is good too.
Despite typos and bad spelling, Small Business Opportunities has some straightforward articles.
About has a retail industry area.
Trying to get a business plan together? The Small Business Administration has a tool to use. This PDF contains it all in one page. Thanks, Oprah! Her info comes from Jim Horan and his books.
The Small Business Administration on business plans.
Need an employee manual? Try Ehow.com to get an overview
Too Good to be Threw: The Complete Operations Manual. Of course. You could run your shop without this manual, but why handicap yourself?

Canadian resources here.

Your tax dollars at work!
Firstgov is "The US Govt's Web Portal" with connections to just about everything on the books.
Wondering what legalities your business must satisfy? Business.gov will direct you.
The Small Business Administration provides information, of course.
The U.S. Small Business Administration (SBA) administers the Small Business Development Center Program to provide management assistance to current and prospective small business owners.
If you're a woman in business, check out the SBA's Office of Women's Business Ownership.
SCORE (Service Corps of Retired Executives) offers free in-person or e-mail counseling.
Publications on small business financial concerns from USA.gov

Free enterprise sites:
Findlaw is a source for legal questions
Nolo has "do-it-yourself legal solutions for consumers and small businesses"
Payroll-taxes.com for employee/payroll questions and links
Scads of info at Business Owners' Toolkit
Loads of informational links (magazines, newspapers, more) at CEO Express
A site developed for teens which has very good basic explanations: YoungBiz.
Bulk mailing rates, how to use direct mail, and so on at Direct Mail Quotes.
Or try the U.S. Postal Service site.
For those who agree with me that less government is what we need/must have, visit the Libertarian Party.

Canada has Libertarians too!
Resale shops of all types

Consumer safety
For safety recalls, check out Consumer Product Safety Commission.
These sites might be easier to use: www.recalls.gov and consumersafety.org
Learning about your merchandise
Apparelsearch.com has almost too much info. Examine their drop-down menus carefully: there's a glossary of fashion terms, size conversion charts, and much more.
For a list of "best fashion blogs" to follow, check here.
More links are on our kidswear, designer, furniture and thrift specialty pages here at TGtbT.com. You can access these, and lots more info, from the TGtbT Messy Back Room.
Fakes. They are theft. Read this NARTS article "The Facts on Fakes!" Adele, NARTS honcho, adds: "The International AntiCounterfeiting Coalition has added a form to their Web site that allows people to report a person or/and store that sells fakes. They also added a Counterfeit Gallery. www.iacc.org"
Our resalers' blog, AuntieKate, has gathered some resources in this post.
Is copycat fashion wrong? An interesting article by a consignment shop, CoutureUSA.
Another resale company that talks about Hermes, LV, and Chanel authenticity.

Fake Vuittons, and so much more, at My Poupette.
Fashionphile shares lots on Vuittons and more.
Burberry info here.
How to spot a fake Hermes Birkin | Bag Bible
How to spot a fake Chanel | Bag Bible
eBay Guides - How to SPOT fake LV LOUIS VUITTON
How to spot a fake Louis Vuitton | Bag Bible
Checking traditional LV monogram bags.
eBay Guides - How to spot a fake COACH bag and How to spot a fake coach | Bag Bible
How to Spot a Fake Coach Handbag | Bag Bliss and How to Spot a Fake Coach Purse - YouTube
Thanks to the many hard-at-work vendors such as http://ihatecounterfeitbags.info/ (go to her "Menu" for other designers besides Kate Spade)
Is copycat fashion wrong? An interesting article by a consignment shop, CoutureUSA.
Another resale company that talks about Hermes, LV, and Chanel authenticity.

Learning about your clientele
Think cheap. Find great ideas to share with your customers and use yourself at Debt-Proof Living (formerly Cheapskate Monthly).

Learning about your business
If you are designing your exterior signage, this chart will help you determine visibility, colors, and so on
Did you sleep through math class? Apparel Search has easy explanations and formulas for finding the business figures that are necessary for tracking your progress.
Software:
(Note from Kate: These are companies which are known to me. If a company you are considering is not here, it could be because they have not made a showing in our industry, they have not contacted TGtbT about their product(s), or they have received glaringly-negative reviews from shopkeepers. The companies above are not guaranteed or warrantied by TGtbT.com of course; this listing is simply here as a courtesy. Make your own choice by trying their demos and following my guidelines in the Manual; I cannot and will not "recommend" one over the other.)
In alphabetical order
Cloudseeder is web-based consignment POS.
Consignment SuCCEss does as well.
ConsignmentTill is a Canadian developer.

Liberty Software is another resale market software provider.
Richochet Consignment Software is web-based software.
SBS Solutions has "The Consignment Shop" software.
SimpleConsign is web-based software.
Workplace Software has several software programs.

The Computer Peeps: The Computer Peeps provide help & support for consignment software.

Store fixturing, displays, supplies:
Even if you never buy "new", these sites have on-line catalogs to browse. Use these to do research on how much things should cost, explore your fixturing options, and more. If you are buying new, compare prices with shipping added.
Displays2Go has prize wheels!
Firefly Solutions has those great printed paper merchandise bags we all love.
Store Supply Warehouse says they "reach 98% of the U.S. in two days or less"
National Store Supply is in Vermont
Achieve Display is in Alabama
Naythons Display in Philly is also a good reference
Gershel sells new and used
Here's a just-for-fun link: Mannequin Madness sells and rents mannequins in the SF area; even if you have no interest in that, see wonderful ways to paint and decorate mannequins (once you see the creations and $$, you may be inspired to start a sideline business!)
Price tags to use with your software are available from the software vendors, and an independent supplier is Tags by Markat CC in NC. Another popular company for price tags is Forms Plus
VA Aardvark is a company that sells quilting supplies, but they have an interesting selection of things useful for your shop, and in small quantities, no minimum orders and reasonable shipping. Plus, they have a how-to page on loading your tagging gun and changing the needle: How's THAT for customer service!
Need security tags? Try this site. Always wondered how anti-shoplifting devices work?

Some suggestions from readers:
Vistaprint for almost-free business cards: design, proof, pay online. Another resource would be Overnight Prints.
Custompostcards.com and Postcardmania for postcards.
Broadcast, graphical email programs. Robly, Mailchimp, Constant Contact, Vertical Response
Easy-to-order, easy-to-use, easy-to-pay-for vinyl lettering (as you know from reading the Manual, a MUST for your shop windows) at Stickerz
DesignOutpost is a site where you post a "prize" for designing a logo, then view/ discuss participating artists' work: Recommended by Adele Meyer of NARTS
And many, many of our Sharers have happily had their logos designed by Brody USA
Need to get organized? Mary loves these see-thru, stack-em shoe boxes.
More links on our merchandise-specific pages, such as our Kidswear Page and our Womenswear and Furniture Pages.
Wholesale sources for your consignment or resale shop:
The most unique item for your shop, whether you sell it, use it as a premium with purchase or as a door prize, is one that you can ONLY buy here, from Kate.
About the following listings: I haven't dealt with all these companies, so use your best judgment. Our resale peers often mention sites where they have found items to resell in their shops.
Whirled Planet: silver jewelry, saris, and so on
Wholesale EZ has a listing of all sorts of wholesalers. Wholesale Central does, too.
Roden Imports in Alabama has some unusual items for selling or gift giveaways
Banian Apparel has kids' undies, sox, more
Simon & Simon, an offprice apparel seller, might have what you need.
Immediate Resource offers an unusual collection: everything from Eastern Star outfits and choir robes to sexy little prom numbers.
JasmineUSA offers plus size clothing, junior plus size, and missy sizes.
Wholesale Sterling for just what their name says. Another silver-jewelry company some Sharers have liked: Silvex.
Charles Albert has sterling/ natural stone jewelry
More favorites: Jeannie's and UREternity.
More here and here and here and here and here.
Sunglasses and readers: Here and here and here and here. This company even has vintage style glasses, and clear glasses!
My friend Molly suggests you take a look at Cheap Wholesale Jewelry "some good deals and pretty nice 'box lots' that are sometimes a roll of the dice, but I have been pleased every time" and Her Station has "great western inspired items including sunglasses, belts and thick sole flip flops that are seriously blinged out!"
Wholesalewholesale has sarongs, jewelry, and so on. This is their Canadian site, but you can access their US site from here as well.
Other sites readers have recommended: Fancyimport.com, Jewelry Max and Goldenstella.com as well as JGoodin and Best Imports
Wholesale accessories suggested by readers: Youngstrading.com, Juwa, Diva Designs. Watchus.com, even products for curly hair at Jessicurl and bath products, wholesale, at ScrubYourButt.com.
My absolute favorite (could be yours if you adore Tiki mugs, hula girl dusters, boxing nuns etc) is Accoutrements.
There's Best Hair Bows for children's bows, headbands, and boas for the kid in you and Eastern Off Price sells kids' and adult clothing and accessories on line. Scarves, wraps: FashionUnic and Blue Bell.
Unusual POP and add-on items, perhaps, depending on your marketplace: Fashion Tape; Oriental Trading has great giveaways, POP merchandise. Body jewelry: JSW and 99Cent. Sunglasses: Olympic.
And, of course, Kate provides the resources you need to make your shop a success. So hustle on over to our Products for the Professional Resaler Shop right now!
Hey, we're not just Resale Goddesses. Sometimes, we just wanna have fun. Here's some sites I like. You may too. . . or you may not. Such is life.
Need a new bra? Make one yourself out of a plastic bag, courtesy of the BBC
The Red Block Game, otherwise known as the Ultimate Time Waster.
Then there's always Hangman.
So you wanna has everything from hosting a bridal shower to speaking Swahili. And well-written, too!
Silly clothing questions (alas, no answers) at Gadzillion Things.
Take a look at our resale cousins at YardSaleQueen.
The Straight Dope is a fun site, especially if you've ever wondered just what a mojo really is. And take a gander at their tag line/ mission statement.
Need bubbles that glow in UV? A rhinestone bra? (And these are just the things listed before they get to the category "weird stuff"!) Take a gander at Costumer's Manifesto. PS: Great place to find fairy wings for your romantic 6-year-old, too.
Play dress-up furreal at The French Toast Girl.
Fly Lady is always full of fun stuff
Here's a site that not only can teach you to dance, but even how to do collage. It's called (for no reason I can ascertain) Zefrank.com