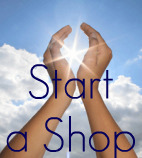 Help, not hype.
That's what Too Good to be Threw offers you when you want to open a consignment or resale shop.
The first investment is Too Good to be Threw, The Complete Operations Manual for Resale & Consignment Shops. Save tens or even hundreds of times its cost even before you open your doors.
Save with the Beginner's Luck Package:
Too Good to be Threw Complete Operations Manual
See the Table of Contents Read the Introduction
Shop SIZZLE Make your shop look like a million without spending it!
Secrets of Successful Resalers Insider info on what works. Includes 9 "Million Dollar" Ideas.
Get all 3: the Manual in hard copy, plus the 2 PDQ files Shop Sizzle and Secrets, in the Beginner's Luck Package. The Manual will arrive by Priority Mail (first class air for Canadian and foreign addresses) while the PDQ files will arrive as PDFs in your email box. (Ordering FAQs)
499 Names for your Resale Shop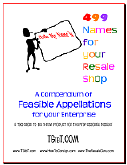 Want the perfect name? You'll have it in no time flat with 499 Names for your Resale Shop! Also your resource to find great suggestions for name changes, naming a second shop, your new outlet store or a department within your shop. Even ad headlines, taglines and tweets!

Buying or selling a shop? Our Business Valuation Worksheet PLUS Selling/Buying a Resale Shop gives you the basic info to start becoming an expert.

Got questions? I'll bet it's been answered over on Ask Auntie Kate, a special section of our TGtbT Blog!

Share this article

Copyright 2013 Kate Holmes, TGtbT.com. All rights reserved and enforced.


| | |
| --- | --- |
| | Want to sell furniture, home goods or decor? Yes, the Manual is for you too. |
How much space?
For clothing, a minimum of 1200 square feet. 1200 is manageable by one or two people and gives you enough space to offer a wide selection. A smaller shop will not be able to hold the selection that will encourage frequent visits. A larger store needs more staff than you likely can afford to start. If you will sell larger items such as furniture or sporting goods, you will need more space.
Which location?
What makes a space perfect for resale? Visibility to foot and car traffic, an easy-to-locate address, parking and access to the parking lot, signage, and neighbors who attract the type of customers you want. Saving money on rent is not the best way to make money. A large rent is scary, but a bad location is deadly. There's hundreds of ways to save money elsewhere, such as the inexpensive ways to make your shop look professional in Shop Sizzle.
How do I get merchandise in before I open?
Alert family, friends, co-workers, and neighbors. Shop for items you can resell. Display only the types of items you wish to deal in. There's all sorts of ways to make your shop look "full" even on Day One in the Manual.
What's the best way to advertise?
Don't rely solely on online social media. These are great, but they only RETAIN current customers; they seldom help you build your customer base. Broadcast e-mail, fliers and mailed pieces as well as an informative web site should be your go-to advertising; and don't overlook the media. Words that Sell! will help you. See ALL our Products for the Professional Resaler
How much can I make?
The sky is truly the limit. With energy and commitment, the only thing that could hold you back is insufficient knowledge. That, TGtbT offers in our Products for the Professional Resaler.
Is resale for me?
Take our quiz, excerpted from the Manual, FREE, to find out if this wonderful career is for you.

Okay, Kate, I want to get started learning how to be a success!
Share this article