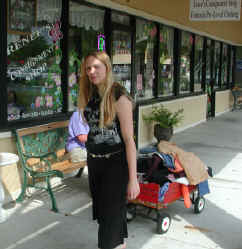 Renee's Consignment Shop (now closed) had 2 locations in this strip center, the main shop shown here, and Renee's Too, their discount shop a few doors down (that's where the staffer is headed with her little red wagon!) Consigned goods stay in the main shop for the first 30 days; after this, they're moved to Renee's Too to sell at half-price for the remaining 30 days. Finally, out-of-dates are moved to a $1-$3-$5 back room and income from these items is sent to charities.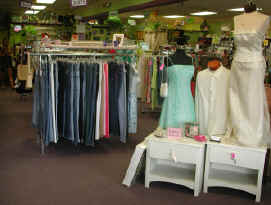 Renee's "foyer" is defined by several small tables which are for sale, and a display of clothing and decor items. What you can't see in this picture: fresh coffee and cookies put out every few hours. Notice the category signs hanging from the ceiling: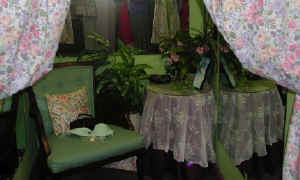 I just had to show you Renee's dressing rooms. Each is a little unique oasis. One dressing room has a TV and doubles as a play area if needed.
I didn't get this shot just right, so use your imagination. What I wanted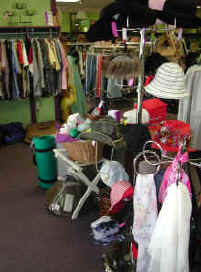 to show you was how Renee took a batch of for-sale small pieces (luggage rack, end table, cupboard) and combined them to make a walk-around island of a variety of goods. SO much better than one's first instinct, which might be to line the furniture up against a wall (probably under the menswear rack, which is what you see in the background.)
Leaving Renee's, a fun touch on the push bar of the door, right where you look down to put your hand: a Thanks for shopping Renee's message!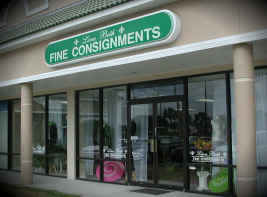 Lina Beth's Fine Consignments is in a small strip of shops across from a major mall on a major road. Lina Beth, member of NARTS and workshop presenter at their annual conferences, specializes in the upper quality of womenswear, and adds accessories purchased wholesale to round out her shop's offerings.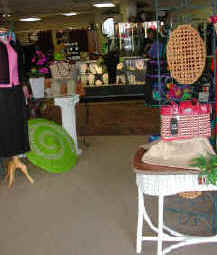 Lina Beth's foyer is defined by the rattan table you can see just half of here, backing up to one of several merchandise areas that function as mini-swing shops. These groupings are a great way to cope with interior columns in your shop, if you have some.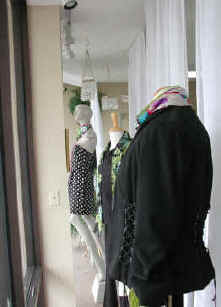 Next, a shot across the front of Lina Beth's as you step in, looking parallel to the display windows. A simple and elegant solution to full-wall windows: sheers, hung from cafe rods held to the ceiling with cup hooks. Notice that they are of varying depths, and that the furthest drape starts at the window and is caught up deeper within the shop. Notice, too, the crystal "chandeliers" hanging within the display space. No shot of Lina Beth's dressing rooms, but they did have that infamous suggestion of Kate's: Fresh clean robes for customers to use to come back out on the floor and shop some more!
Another attractive solution: Lina Beth has broken up the long wall runs so many shops have with a breathing space of a display. During crowded seasons, this area can be filled with a rod. Note the incandescent lamp, too, adding warmth and charm.
Visit Lina Beth's on the Web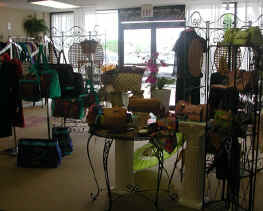 Just one more photo and I'll let you go: notice Thank you for shopping Lina Beth above the door as you leave (and notice, too, how the little archipelago of islands adds class and dimension to the shop...)