Thrift Stores: Not your grandmother's any more!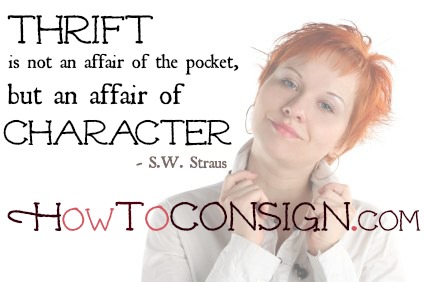 Not-for-profit shops nowadays can be large or small, focused or generalists. Shoppers seeking exceptional bargains love NFP stores because the unusual, the exceptional, and the just-plain BUYS are often found here, thanks to operating costs kept low with careful budgeting and cherished volunteers.
And it used to be that non-profit thrift stores sold used merchandise that was donated only. No more! Now, some thrift shops accept consignments, some buy wholesale to fulfill a need in their marketplace, and some solicit brand-new merchandise from manufacturers and retailers.
The same... but different. Some thrift store staff feel that their issues are not the same as for-profit resalers. While sometimes this is true, you can still learn a lot from the private sector. Following our blog, our Facebook and Pinterest accounts, can be helpful. Not as much time as you'd like? Zero in on our blog posts tagged "thrift."
Highlight hidden attributes: Is that a sleeper sofa? Do you have 6 of those bar stools available? Create branded signage, laminate, and use over and over again to tempt shoppers into investigating a little bit closer!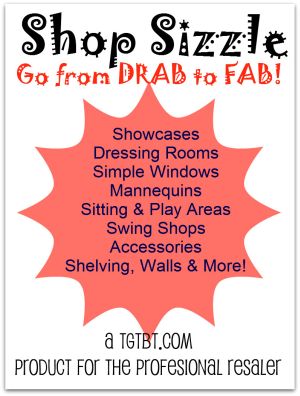 Limited budget? TGtbT's Product for the Professional Resaler, Shop Sizzle, is 64 pages of inexpensive ideas to spruce up your shop with little or no money.
How to display the wide variety of goods your shop offers: Gondolas, which are the multi-tiered shelving units used in many thrift stores to display their variety of home decor and household items, can actually direct shoppers' attention. Here's an illustration I created for a charitable thrift to help volunteers place incoming goods for best sales appeal. You're welcome to use this in your NFP thrift store!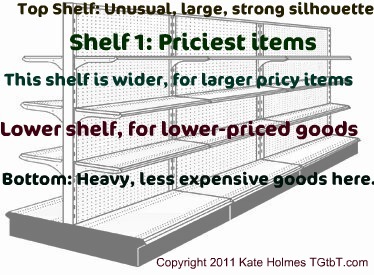 Increasing the value of your donations: Many thrift stores have volunteers with talents, but who cannot work on the sales floor. These wonderful folks can put their talents to use increasing the value of your donations! On our Pinterest board, we've collected up saleable projects. Lots of these ideas would also make a fun Girls' Night Out in the shop, where volunteers can socialize as they create.
Kate discusses How NFPs Can Profit by Reaching out to Resale Peers in this free PDQ (What's a PDQ?)
Send this page to a coworker, your Board of Directors, or the shop down the road.