Is blogging for me?
A guide for retail stores, especially resale, consignment, and thrift shops.
Do you have a blog? Maybe it's abandoned or you never really got it going. Maybe it's a part of your social media tactics, but you dread having to blog.
If you've ever thought about starting, or attempted to start, a blog for your bricks-&-mortar shop, we're here to help.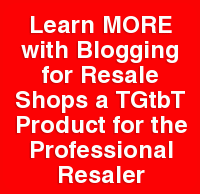 Or maybe you're frustrated because it always seems like something on your web site is out of date. Your hours have changed, or you want to rewrite some of your policies, but it's hard or even impossible for you to do this. In the case of the out-of-date web site, your shop blog is ready to help.
As I researched and organized information about the easiest ways to blog (since, after all, you are a shopkeeper, not a web master), I was constantly frustrated because much of the information on the web about blogs is directed towards online businesses... and what you want your shop blog to do, is to get people in your real, bricks-&-mortar store.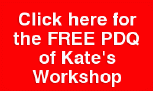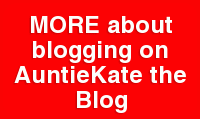 So I decided, in addition to giving an hour presentation at the NARTS Annual Conference on Who? ME, Have a Blog? I would gather the best information, create a treasury of links and how-to's about blogging especially addressed to the store owner or manager who wants an easy-to-use, easy-to-alter, and above all, quick way to publicize, personalize, and promote her or his resale shop.
Get Blogging for Resale Shops PDQ Pretty Darn Quick! (What's a PDQ?)
The handout from my workshop. Dozens of posts on Auntie Kate the Blog about blogging for resalers
Optimizing your Resale Shop web site, a mini-series at Auntie Kate the Blog
Start here for our week-long discussion about YOUR web site, and whether it's doing the best job to get shoppers into your actual, physical, bricks-&-mortar, REAL store. This is an aspect of web design that is not usually talked about online… because, well because everyone who's online thinks everyone's online! But getting Internet surfers to actually step away from the computer/iPad/iPhone and come shopping? A topic WE need to know more about.
Then, of course, there's the all-important search engine ranking. It's great to optimize our web sites to draw shoppers into our business. But first, they have to FIND us. And that's where we really have to roll up our sleeves, because we're competing with the big boys: the local shopping review sites, from Google Places for Business to Yelp. When sites like these fill the search results, how can your shop compete? Well, it isn't easy… but it IS easy to edit your web site so searchers will find you!
After you've read the series, download our free PDF, Your Website Ranking Quiz, and see how well your consignment, resale, or thrift website is working to actually get paying customers and valuable suppliers into your store.
Get Blogging for Resale Shops PDQ Pretty Darn Quick! (What's a PDQ?)