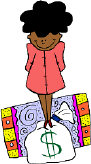 HowToConsign.com has a Resale Directory with all the Professional Consignment, Resale, and Thrift Shops whose Sponsorship brings consumers info on how to prepare their items, how to shop all sorts of resale, and guides them right to the nearest professional shop at home or on the road. No ads, no distractions, no self-promotion: HTC is designed to promote our industry. And, of course, help people find YOU.
Join these outstanding stores! Our Resale Directory and Zoomable Map makes HowToConsign.com the #1-ranked Google site!
What's NEW on TGtbT.com
The Premier Site for Professional Resalers
Polishing, publicizing, and perfecting the business of marketing refreshing, reusable, refashioned and responsible possessions.
Consumers love HowToConsign.com "Turn your Cluttered Closets into Cash!"
and now there's HowToConsign, the BLOG!
Our totally revamped and expanded
Your Frequent Buyer Card: A Guide is now available.
Your Resale Fortune is waiting for you in our
Products for the Professional Resaler!
Find what the Resale Industry is
thinking about daily on
Auntie Kate, The Blog