What to do NOW: Our current Feature article
Retail is a season- or occasion-driven business. People shop for what they can use now, what's on their minds because of news and social media events, and what they've been "trained" to do (hence, the term "Hallmark holiday".)
Here on TGtbT.com, our Feature article will help you prepare for profits!
Love those Back-to-School, Fall's-My-Favorite-Season Shoppers!
5 Things to do to get your share of this season's shopping dollars.
Back to school shopping is not limited to K-12. There's BTC (back to college) buyers (think dorm room supplies as well as clothing!)... and don't forget teachers wanting to refresh their wardrobes. And finally, there's the "Fall is my favorite season!" enthusiasts, who can't wait to pull on a chunky sweater and their new-to-them suede boots!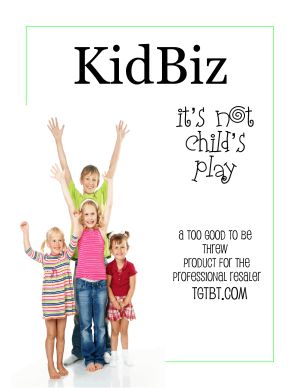 Here's 5 tactics to put in place right now to capture some of those dollars in your shop. Just follow the links to a semester's worth of consignment and resale education!
1: Get the Press Interested:
Get fired up about the newsworthiness of our industry. Ideas that you can adapt: Why Shop Secondhand First? and How to Shop Resale

Get some media love: Reference the HowToConsign.com article, You, your kids and Back to School, in the press materials you send to media reporters.
2: Get Stuff IN:
You'll need time to build up a good stock of merchandise, so don't hesitate, even 6-8 weeks before parents will be thinking back to school, to appeal to your suppliers. Here's a story from Auntie Kate to show how effective an actual invitation can be!

Nudge your viewers and readers with a fun Challenge

Get your clients on the same page with you by including the link to HowToConsign.com's Back to School consumer info, in your blog, next e-newsletter, Facebook update or tweet.
3: Attract New Resale Shoppers:
Use your blog, your web site, email blasts, and all your social media channels to get shoppers into your business before they blow their budget elsewhere.
Make sure you have all available knowledge of your merchandise at your fingertips: TGtbT's Kidswear page, Womenswear page, and Furniture page have lots of help for you!
4: Give your Customers a Reason to Talk:
Remind them what a great place you have (of course, to do this, you need the most basic of all marketing tools)
Do something WACKY: How's about the Great Tshirt Fold-In as a news-worthy event, maybe even as a charity event?
5: Give them a Reason to Return Again & Again:
Address your customers' concerns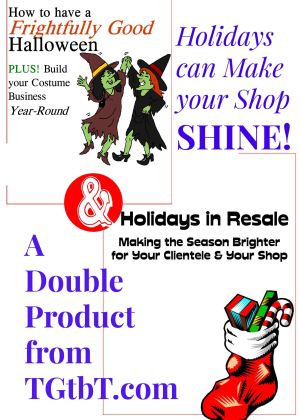 Frequent Buyer Cards are proven loyalty builders
Oh, and just when you thought you could take a breather from BTS? It's time for Halloween!