Let's go SHOPPING!!
After all, we resale shopkeepers love to shop...and we can even (most of the time!) consider it educational research. (At least, that's what we tell our spouses...) Suggestions of items that you can find to help you be a better, more professional, and more profitable consignment, resale, or thrift store shopkeeper.
For those who want to really improve the ambiance and money-making aspects of their shops, take a look at My Favorite Things on Auntie Kate the Blog. Plus there's great ideas for making your shop look terrific on a resale budget in Cheap Tricks and Best Buys. in the TGtbT mini-Products for the Professional Resaler Luncheonette.

Thrift stores

Online Shopping

Garage Sales!

Going out of business sales...

Dollar here, dollar there..



Shopping the Holiday Clearance Sales!
Thrift stores
Our sisters-in-resale, the charity-run thrift stores, can be a great source of merchandise for resale, and more importantly, for props and add-ons for the items in our shops. Keep an eye out for:
Glass risers, stands, props for your jewelry cases: pressed glass footed compotes, cake stands, and simple decorative shapes to drape jewelry on and over. Those compotes make great counter-top holders for a collection of pins or pearls as well.

Lengths of fabric or table linens to swirl in your jewelry cases as backdrops, or to cover foam-core boards with to make pinnable display boards to mount on your walls.

Candles to use to emphasize for-sale candlesticks. Buy any you find that are clean and unused: you'll be amazed at how they help sell holders.

As mentioned in the garage sale section below, Christmas mugs to fill with baggies of peppermints or cocoa single-serving envelopes as a little "Thanks-for-coming-in" gift in December. "Friendship" or "thank-you" decorated mugs, usually available for a quarter or fifty cents, work year-round as little surprise gifts to clients who have shown you some kindness when filled with candies and decorated with curly ribbon and your business card.

Picture frames: fill with fabric-covered foamcore or sheets of cork spray-adhesived to cardboard so you can hang as pinnable frames for picture-perfect displays! Use the frames as-is, or paint to match your shop's theme.

Look, too, for window props a la Ralph Lauren: "Life-style" accessories such as old oars or sleds, an incomplete but picturesquely-shabby croquet set, even a great old life-ring from a yacht. A pile of old books to create risers in a display. Nothing says classy like "country mansion" attic treasures!

Really big, really useless stuff. An old bike, spray-painted white, with the basket filled with silk geraniums, makes a window display of play clothes look spectacular. A princess rattan chair with no seat? A great prop to hang full-skirted evening gowns on...especially if you spray it gold or silver! Plus, our thrift-store sisterhood will bless you for buying that bulky broken whatever!

Online Shopping
There's a world of shopping at our fingertips. Here's some things Kate's found that seem to be good possibilities to make your shop even more fun than it already is!

These French leaves, designed originally for use to line your cheese platter at you next "do"...make a terrific backdrop in your showcase. They are reusable year after year. Splurge on the tropical version too, for summer and resort seasons.

Absolutely irresistible inflatable monkeys. Can't you just see calling your next clearance sale Monkeyshines or using this in your window with a sign: Donít be a silly monkey, shop MyShop for Back-to-School? (I dare you to give away a banana with every purchase!)

Don't you just love your consignors? Wouldn't these heart bags be perfect for creating your New Consignor Welcome Packet?

Okay, I admit it. I have a soft spot in my heart for Oriental Trading Company...and an even softer spot for anything that acknowledges the Hidden Princess in us all. Here's tiaras for your next After-Hours Queen for an Evening event. Don't do those? How's about a shop promo focusing on We treat your child like royalty with crowns for all comers?

Garage Sales
Who can resist the temptation? Besides buying items to resell in your shop, here's some things to keep an eye out for:

Small display or storage pieces for the shop. (Carry with you the measurements for that little corner that could use a shelf unit)

Wallpaper sample books, wrapping paper: great for filling "empty" picture frames, rendering them more saleable. The more subtle patterns work well as backgrounds in showcases or as "place mats" under home decor items.

Things to use as risers in your jewelry showcases.

Little goodies for your "wall of prizes" and holiday items (fluorescent skeleton to enliven your costume window in October? Christmas mugs to fill with baggies of peppermints or cocoa single-serving envelopes as a little "Thanks-for-coming-in" gift in December?

Use your imagination: bridge lamp = dress stand, set of 3 coffee tables = platforms and risers for a display window.

Baskets. Usually dirt-cheap at garage sales, envision them spray-painted, to hold POP items at your register.

Silk flowers. Even the most "battered" bouquets work great if you dismantle them to strew blossoms and leaves as flooring in a display window. Save the better silk leaves for unique and attractive earring "cards".




Going out of business sales..
Stores that are going out of business are terrific places to find unexpected goodies for YOUR shop.

How do you find businesses that are going out of sale? By keeping your ears open, listening to gossip, and paying attention.

If you're unsure of whether a shop is going out of business and you don't want to offend them, you might simply go in, admire their fixtures, and mention that if they ever remodel, you'd be interested. That may get a "Gimmee an offer" response.

Be prepared to either cart items away immediately, or wait until they've held their Going-out-of-Business sale. But if you can't come back, let them know you'll buy it now...or never. Hopefully, that'll open their eyes (But I wouldn't count on it...some folks, you can understand exactly why they're closing up shop.)

While you're buying, keep talking. "I could use an extra tagging gun... do you have those little hook attachers? Any earring cards? Did you use garment bags?" Chances are, there's lots of things you could use that they might otherwise overlook. Gather up everything you want, from shelving units to tissue paper, and ask for a package price. You'll usually do better than asking piece by piece.

Know your prices from store supply catalogs so you don't overpay. There's a list on online companies on our Links page so you can be prepared.

Here's one time when you really do want to deal with major nation-wide chains. They just want to clear the space, so they will be motivated to sell multiples of racks for very little (plus, hey, they got a quantity price when they bought them!) If you're leery of buying too much, contact your fellow resale shopkeepers and share the deals.

Dumpster dive. Businesses that are closing often just junk their equipment, supplies and fixtures...or the landlords do when the tenant is gone.

Check out the dollar stores... they're full of goodies!

Year 'round, good selection of colorful shopping bags. You're sure to find the right color and scheme to complement your shop's decor. Include them with bags from real stores, and use them to fill a sale-time window, line up on the ledge above your wall racks...or simply give them out to favorite purchasers!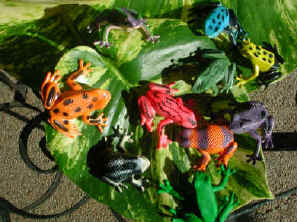 More paper goods: note cards for thank-you notes to your top tier clientele...paper cups for refreshments at your next event...
Picture frames to hold signage in your dressing rooms: Remember, you're allowed to have both at our prices! And while you're thinking of your dressing rooms: WallPops self-adhesive stickers. Use a different picture for each room, and you can call them The Daisy Room, The Rose Room, and so on.
Sometimes there are great giveaways for kids...here's the 10 colorful rubber tree frogs Kate found for $1! Or imagine a slew of these in your jewelry showcase... You'll be hopping with delight in our great accessories!
Shop with an eye to displays: cheerleader pompoms for a Homecoming window? Colorful plastic pails turned upside down for risers in a display? Metallic confetti in a "50" shape, designed for birthday celebrations, but a fun way to glitter up a 50% off jewelry showcase.
Flag banners: black-&-white checkered flag for a b&w window, "Congratulations" for a "You've found us!" window. Small statuettes give height and depth to jewelry cases. Bright foam visors for your mannequins for a "Made in the Shade" summer window.

Shop for clearance-priced holiday items for next Christmas (and other times, too!). Bargains to look for:

Shopping bags to pouf with tissue, use as store decor. Colorful gift boxes and wired ribbon to make risers for displays (Buy plain red, gold, silver rather than Christmas-specific: useful for other celebrations as well!).

Tiny ornaments to buy by the bagful as giveaways next November and December. Even better if you can find ornaments that relate to the merchandise you sell or your shop name: they make great door prizes for a special event, promotional gift-with-purchase, even gift-certificate tie-ons. Look, too, for non-holiday specific ornaments on sale that you can build a promotional theme around such as hearts (We LOVE Resale) or little houses (for a home decor promotion!)

Stock up on tiny, non-fad toys. Use them for good-kid treats, your children's birthday basket, or simply as gift with purchase.

Household shop? Votive candles and/or holders make little gifts, as do candle rings or holiday-themed plastic cookie trays.

Pretty holiday stationery or blank cards become shop gift certificates next Christmas.

Light strands at clearance prices to use year-round in windows or to rev up interior displays and showcases.

Stock up on garland and pinecones for a skiwear display in February, a camping display in August.

Who says artificial Christmas trees are for Christmas only? Trim with hearts for Valentineís Day or use several and construct a tree fort for a charming childrenís window to use for months.

Wreaths, too, to trim for year-round use: shells for resort, eggs for Easter, yellow pencils and apples for back-to-school. (Note: Before you spend money: If you put up a sign in your shop the day after Christmas that you'd like these...we'll bet some customers would love to donate them to you!)

Silver garland makes a great prom window; white trims a bridal display.