Resale Reports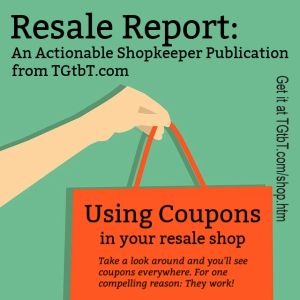 Quick, easy, informative reads for the Professional Resaler. No fluff, just down-to-earth, resale-specific ideas to make your shop BE all you dream it CAN be!
Our first Resale Report is an in-depth look at coupons: are they outdated? By no means! Take a look around, and you'll see coupons everywhere. For one compelling reason: They work!
Learn the ins and outs of offering coupons to your shoppers and potential shoppers. What offer is best? When should you use them, and what type of coupon will accomplish your goal... and just what goal is worthy of a coupon?
Get Resale Report: Using Coupons in your Shop, a 6-page actionable shopkeeper publication, today and start building business and loyalty tomorrow! Delivered to your email as a PDQ (what's a PDQ?) for only $7.95
Just click, tap, or press to Buy Now!