Email: A Resource Reference from Too Good to be Threw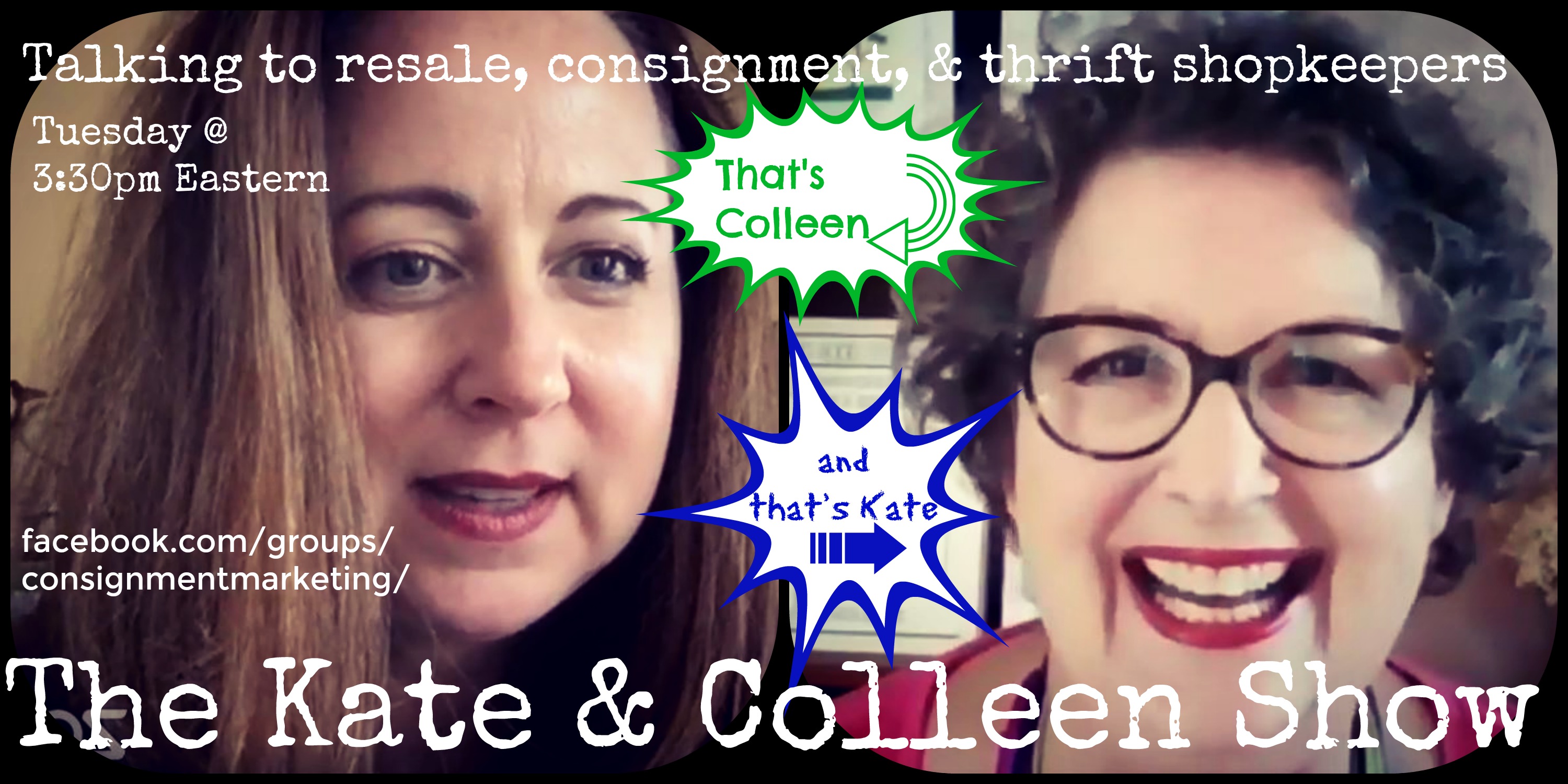 On the March 6 2018 Kate & Colleen Show*, we talked about email. Here are the references and ideas we discussed, brought to you by TGtbT.com.
Table of Contents

What to look for when choosing a provider

The Elephant in the Room

How often?

How long?

What's good percentages for opening?

Subject lines

BONUS: The Only 5 Subject Lines You'll Ever Need

BONUS: The 4 Emails You MUST Send to Online Customers

INCREDIBLE UPCOMING PUBLICATION COUPON. Clip and save!
*To see the Kate & Colleen Show, you must become a member of Colleen's private group. You can do so here.
Think of your email (and your website!) as your warm, inviting meeting place for you and your customers away from the rumble of the semis, the roar of the jets on the Internet. It's social media's Grand Central Station vs your serene Zen-inspired gathering space.
You don't have to shout to be heard in email. You have their undivided attention (even if it is just for 7 seconds!... see below)
And best of all, when you send out emails, you can refer back to all the short-lived (and probably overlooked) social media mentions you crafted last week or month, getting more use out of work you already did.
What to look for when choosing a provider
Whether you can see what links were clicked on (were they more interested in the home decor items you suggested or the designer stuff? Good intel for marketing!)
How easy it is to resend to those who didn't open it
Can you DOWNLOAD your contact list so you can move to another program
Can you send a series easily? This is kinda Email 201... but a series can really lock in their loyalty. E.g. welcome to consigning/ what to expect next/ tips to get more accepted/
Sign up for email providers' emails for great info, tips, and hints. Vertical Response's are particularly helpful!

The Elephant in the Room
How to get their email addies onto your list. You don't have to promise to send them nudies of hot guys... read more.
(We digressed onto logos that you could switch up. Here's what I meant.)


How often?
As often as you have something to say that they will consider helpful and interesting. Join my TGtbT list to see helpful and interesting stuff from me.
At least once a quarter to keep your name in mind, so they don't mark infrequent emails as spam Your "From" line should contain your company name, so your subscribers will instantly recognize you. For example, my From: line is "Kate at TGTbT.com" so they know it's a person and that person is from a company they know and trust.
170 words and a relevant picture. Read why and see an example.


What's good percentages for opening?
Lower than you imagine! 20% to 24% is considered good. Some opinions from email service providers and reviewers such as Constant Contact (2018 report), Smart Insights (2018 figures, but the company focuses on the UK), and Mailchimp (February 2017 results)
Keep it under 40 characters or about five to seven words. If your email provider allows you to add a subtitle, do so. Not all recipients will see it, but many will. Get ready to kill it with Ways to Say: Headlines & Subject Lines.
Avoid spammy words. What's spammy? SEO opinions vary, but "free", ALL CAPS, and "buy now" may land your email in their junk folders.
Read more about this.

BONUS: The Only 5 Subject Lines You'll Ever Need
I've found 5 subject lines that really work! And each of these can fit just about ANY message you'd like to get across to your audience. Yeh? Cool. You now have a year's worth of email subject lines. Write these down, add your messages under each, and there you go: 50 emails ready to format and send.
Is everything ok?
We've never done anything like this before
I Thought This Would Be Different
Something BIG just happened!
You're not the only one.
Join to get an email notification when there's a new post on the TGtbT.blog (about once or twice a week)

BONUS: The 4 Emails You MUST Send to Online Customers
Plan to send 4 emails, separated by an interval you choose. (Most email programs have a way to send a series of automatic emails to those you choose.)
1. Thank you
A simple "thank you" can have a significant impact on how customers view your brand and whether they choose to continue shopping with you.Your customers want to feel appreciated, so let them know that you're grateful for their purchase with a thank you email. Try including a "Explore more" CTA button at the bottom to gently encourage customers to continue engaging with the company.

2. Survey invitation
Send a follow-up survey if you'd like to learn how they found you, how often they visit your selling platform... and even to get feedback. Let customers know how long it will take to fill out the survey, the reason you're sending out the request and, of course, a thank you.

3. Special offer
Looking for an easy way to turn your first-time customers into repeat customers? Give them an opportunity to save on their next purchase. Or promote your rewards program or FBC.

4. Request a review
If you aren't asking your customers to review you online, you could be missing out on an important sales opportunity. One recent study revealed that a staggering 90 percent of consumers say that positive online reviews influence their buying decisions. Ask them to write a review while they're still excited about what they've bought and the positive experience they've had. Direct them to Yelp, Facebook or Google by including a link and explaining how to leave a review.
(Read the full article on Vertical Response.)

INCREDIBLE UPCOMING PUBLICATION COUPON. Clip and save!
The first volume of Ways to Say, a compendium of clever and concise phrasing, will be Headlines & Subject Lines. Watch for it on our TGtbT Publications Page, tell me "I'm a fan of TGtbT" when you order, and get it HALF-PRICE. (Just kidding about the clipping part.) (Not kidding about the incredible part. This publication has been YEARS in the making.)